Novosti / News
Stigla je nova B&W serija 600s2!
B&W serija 600 na rasprodaji sa 15% popusta!
Novi B&W modeli!
Stigli su novi B&W modeli :
- CM10
- Panorama 2

Novi ROTEL!
Stigli su novi modeli Rotel 12.
NOVI KORATO MONOBLOKOVI RENNAISANCE 807
Korato model Rennaisance je dobio potpuno novi izgled i poboljšane izlazne cevi. Umesto dosadašnjih EL34 izlaznih cevi, sad ima kvartet 807 cevi. Pored novih izlaznih cevi kvalitet zvuka je unapre─Ĺen koriš─çenjem Beyschlag otpornika. Što se tice spoljnog izgleda Rennaisance je dobio masivniji i lepši drveni ram.
Stigao B&W Zeppelin Air, novi Zeppelin sa mogu─çniš─çu AirPlay-a.

Slede─çi artikli u ograni─Źenim koli─Źinama su na jesenjoj rasprodaji.
Popusti su od 13-17%.

B&W 683 wenge
B&W N802D rosenut
B&W Panorama
B&W CM7 wenge
Focal 816V
Focal 826V
Focal 826W
Focal Dome 5.1
Za više informacija javite nam se u salon na Crvenom krstu.


Test Korato Ikarus poja─Źala koji je objavljen u What HiFi ─Źasopisu (Korato) i (Korato Ikarus).

Stigao je kompletan asortiman Pioneer AV program i Denon AV i stereo progam koji su izlozeni u salonu. Takodje je stigla i Rotel 06SE serija.

Radnja u Kneza Miloša zatvorena!
Ovim Vas obaveštavamo da je radnja u Kneza Mloša zatvorena. Mo┼żete nas posetiti u našem prodajnom prostoru na Crvenom Krstu.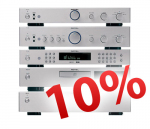 VELIKI POPUST!
Svi proizvodi Rolel 06 serije su sada na sni┼żenju od 10%!

Pozovite nas i raspitajte se!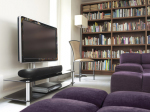 Panorama je stigla!

Unesite ┼żivost surround sistema poput onih u bioskopima sa Panoramom - najbolji TV zvu─Źni bar koji mo┼żete kupiti! Lak za postavljanje, jednostavam za povezivanje sa prakti─Źno svakim multimedijalnim uredjajem koji imate, Panorama ─çe pretvoriti vaš TV u mo─çan ku─çni bioskop, ─Źine─çi filmove, muziu i igrice bolje nego ikada! I sve to iz jednog prelepog zvu─Źnika.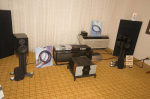 Korato na Rocky Mountain Audio Fest-u
Korato veoma uspešno nastupio na Rocky Mountain Audio Fest-u u distribuciji BSP.

Recenzija Korato KVP 10 i Anniversary
Korato KVP 10 i poja─Źalo Anniversary dobili su sjajne recenzije u ─Źasopisu Positive Feedback. Pogledajte ceo ─Źlanak ovde.
korato@eunet.rs više nije u funkciji molimo vas da nam pišete na korato@sbb.rs

Review of Korato KVP 30 i KTA 300 in What HiFi magazine!
WhatHiFi test - PDF/


Bowers & Wilkins CM9 je dobio EISA nagradu
EUROPEAN Loudspeaker 2009-2010

Zvani─Źno saopštenje EISA-e:
"This handsome floorstanding loudspeaker offers tremendous value for money, and features B&W's highly regarded FST midrange unit as part of a four-driver system. The woven Kevlar cone of the FST driver is swaged at its edge and rests on a ring of foamed plastic that acts in compression. This novel arrangement improves the driver's dissipation of unwanted vibrations but limits its excursion, so the unit hands over to twin 165mm bass drivers, reflex loaded through a dimpled port, for deep and extended low frequencies. The speaker offers a healthy sensitivity but is reasonably tough to drive - weedy amplifiers need not apply! Suitably partnered, the CM9 offers a very lush sound, big and expressive with a very realistic sense of musical dynamics. It's one of B&W's most compelling floorstanders to date and at a price that seals its EISA commendation."